What happened when we took our Award Winning Piano Learning Software game...
... then added piano lessons from our real LIVE Piano Wizard Academy classes...
... and put it all in a box?
The Piano Wizard Academy system has already transformed thousands of lives of children and adults for years, won dozens of rave reviews, awards and heartfelt grateful testimonials.
Painlessly teaches anyone to play the piano. It gives every player instant success and joy, because they will immediately be able to play their favorite songs!
"Piano Wizard eliminates the competition."
"A great tool to keep kids busy learning and having fun at the same time"
"With Piano Wizard, a child of 3 can begin playing melodies in no time."
"Music education apps are more productive in this department, but usually fall flat in enjoyment and substance. Piano Wizard could single-handedly change that, pairing engaging mechanics with increasingly challenging game-play."
Piano Wizard, being so intuitive a method, makes it easy to know when to push a key without having to understand spoken (or written) instructions. Thank you for creating such a wonderful product.
Not only do I think Piano Wizard is pretty much the Cat's Pajamas, other people have thanked me because I recommended it for them or their children or grandchildren and they've also gotten great results.
"An amazing engine that lets virtually anyone take virtually any piece of music and play it."
"How good is it? Our testers could play the songs they had learned on Piano Wizard on a real piano later that same day – without having to be nagged to do so!"
Piano Wizard Academy is an effective course that produces measurable results.
"Piano Wizard – Best Gadgets & Gizmos on The Planet 2007"
"I just want to personally thank the people who created this awesome way to teach kids to play the piano, I wish I knew about this when i was younger, I'm 18 now …. Piano Wizard will make a huge difference!"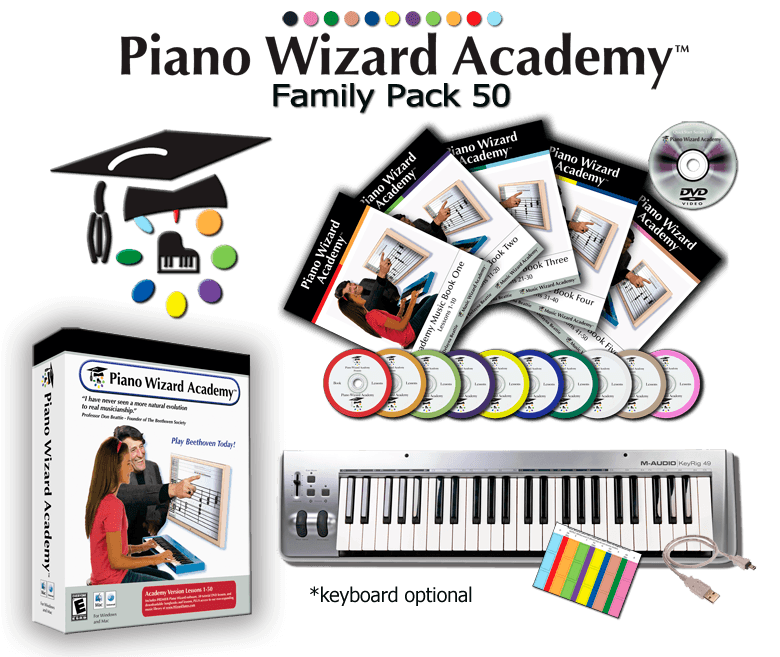 "The success of the program for teachers, college mentors, parents and children alike has been indisputable." said Delyana Beattie, co-creator of Piano Wizard Academy.
"One little statistic from it speaks volumes, compared to stereotypical or conventional piano lessons. Not one child, age 3 to 10, and not one college mentor, dropped out, over the 14-week voluntary program. On the contrary, these kids can't wait to sign up for next semester. I encourage any piano teacher to consider if they not only had no drop-outs, but if every kid was eager and delighted to come to class. With Piano Wizard we have kids teaching kids, kids begging for more practice time-results beyond what we normally get from private classes. It is a joy to be a part of, and we look forward to fully exploring the potential for years to come."
Don Beattie