What happened when we took our Award Winning Piano Learning Software game...
... then added piano lessons from our real LIVE Piano Wizard Academy classes...
... and put it all in a box?
The Piano Wizard Academy system has already transformed thousands of lives of children and adults for years, won dozens of rave reviews, awards and heartfelt grateful testimonials.
"Piano Wizard is a successful adaption of the gaming genre to serious music lessons."
A viable alternative to private music lessons.
"Piano Wizard – Best Gadgets & Gizmos on The Planet 2007"
With a background in training and education plus two children I've long believed in the philosophy "meet them where they are and help them expand from there. " That's exactly what Piano Wizard does.
"…getting smarter note by note!"
"An amazing engine that lets virtually anyone take virtually any piece of music and play it."
Piano Wizard, being so intuitive a method, makes it easy to know when to push a key without having to understand spoken (or written) instructions. Thank you for creating such a wonderful product.
"Piano Wizard is a revolutionary teaching platform that is changing the way kids learn piano."
"This is a complete package that is worth the investment"
"The phenomenal Piano Wizard bridges the gap between music, notes, and colors…"
While many computer programs teach music, Piano Wizard turns anything from Bach to Billy Joel into a video game in which you'll be guiding a rocket ship with a color-coated keyboard, while picking out a tune and learning chord progressions.
The genius of Piano Wizard is that it leverages video game technology for the purpose of teaching music.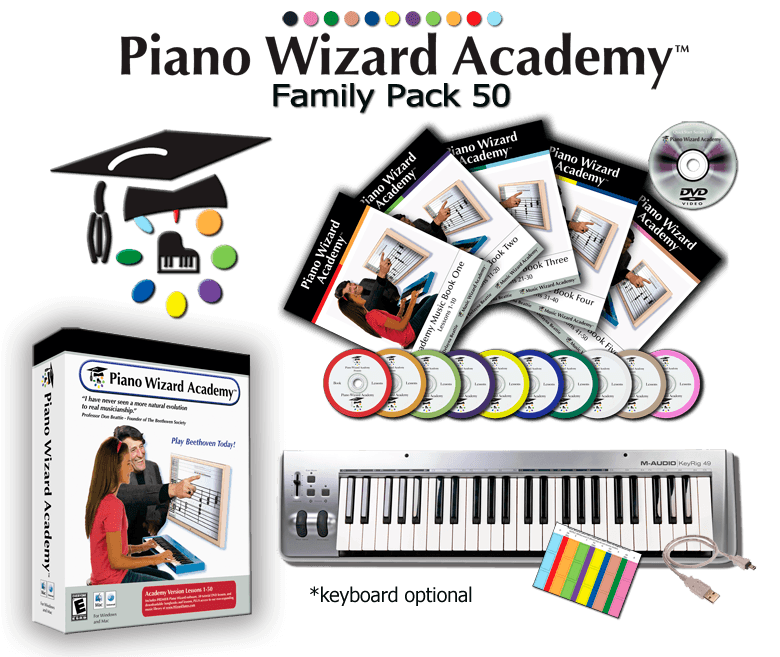 "The success of the program for teachers, college mentors, parents and children alike has been indisputable." said Delyana Beattie, co-creator of Piano Wizard Academy.
"One little statistic from it speaks volumes, compared to stereotypical or conventional piano lessons. Not one child, age 3 to 10, and not one college mentor, dropped out, over the 14-week voluntary program. On the contrary, these kids can't wait to sign up for next semester. I encourage any piano teacher to consider if they not only had no drop-outs, but if every kid was eager and delighted to come to class. With Piano Wizard we have kids teaching kids, kids begging for more practice time-results beyond what we normally get from private classes. It is a joy to be a part of, and we look forward to fully exploring the potential for years to come."
Don Beattie