Paypal® Credit (formerly named Bill Me Later) offers a safe and convenient way to pay. If qualified, you can enjoy 6 months of no payments or interest on Piano Wizard Academy.
Once approved, you can pay nothing for 6 months, or pay a little at a time - whatever fits your budget.  As long as you complete the total amount in 6 months, you'll pay zero interest.
1. New Paypal Credit® Account:  Here's how to apply:
1. Place your order for Piano Wizard Academy.
2. Fill out your order form.  Be sure to check PAYPAL as your payment option.  Once completed, click the submit button.
3. You will see a page like this: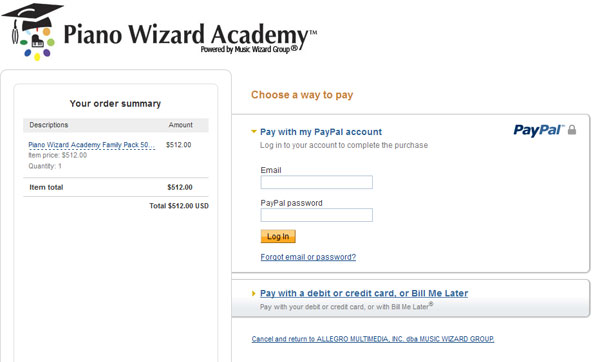 4. If you have a Paypal account, log in.  If you don't, click Pay with a debit or credit card or Bill Me Later.
5. If you don't have a Paypal account and clicked the latter above, the next screen will look this this: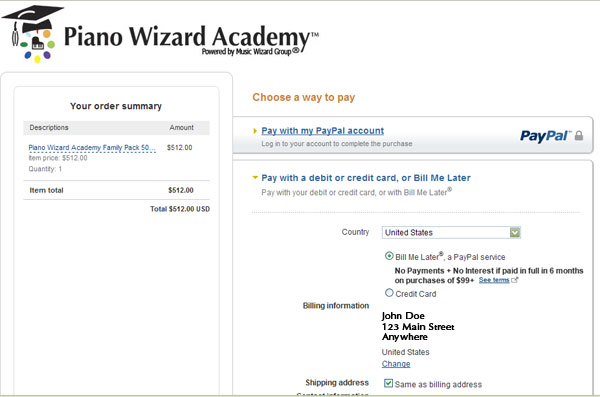 6. You personal information will be filled in. Look at your payment options.  Check the PAYPAL CREDIT® button.  Ensure all information is correct and submit.
7. You will be taken to your Bill Me Later® application.
8. While this is happening, your order is pending. If approved, your order will automatically be approved.
9. If you do have a Paypal account, after you log in, you will see the same options.
 2. Pre-approved Bill Me Later Account
"I have a separate Bill Me Later® account. How do I add it to my PayPal account?"
It's easy! There are three ways to link your Bill Me Later and PayPal accounts:
Log in to your PayPal account, click Profile, select "Bill Me Later," then click Update Preferences.
Click here or enter billmelater.com/linkpaypal into your browser for step-by-step instructions.
The next time you're checking out with PayPal, just select Bill Me Later as your way to pay.
If you have any questions, or have problems with your order, please let us know.