Can I use Piano Wizard Academy as part of our child's homeschool music curriculum?
Piano Wizard is a great choice for anyone 3 years and older.
---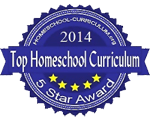 Considering that piano lesson attrition rate can be as high as 80%, the first 2 years are critical to the student's chance of success.
That's why we want to give our children the best chance of succeeding at learning music.  We do that by making fun, natural, and effective.  Piano Wizard does just that.
Buy Now
Learn More
Core homeschool studies are always a priority, but electives such as music and the arts should be a part of any homeschooling curriculum. Many home school parents overlook a music curriculum, not because they don't believe it is important, but because they feel ill-equipped to teach such a large (and seemingly daunting) subject. With Piano Wizard Academy, problem solved. You CAN have your cake and eat it too!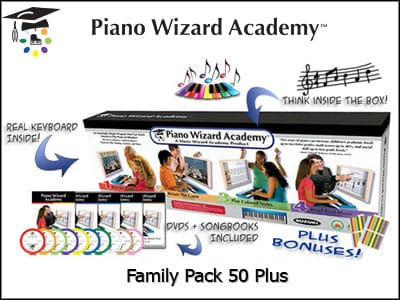 The Academy's DVD and Songbook lessons teach parents and grandparents to mentor their children and grandchildren  in how to move to the next levels of the game, while learning to play music along with the students.
Of course music experience helps, but a loving heart combined with the Piano Wizard Academy is enough to give them a firm foundation and open the doors  permanently to a lifelong musical journey.
What they're saying...
Painlessly teaches anyone to play the piano. It gives every player instant success and joy, because they will immediately be able to play their favorite songs!
"Piano Wizard eliminates the competition."
My children have been playing Piano Wizard for 10 years now. I have built this into their homeschooling schedule. Megan, now 13 can play 6 instruments. I believe that the early start was crucial.
Author
Empower your child with an education for life
Piano Wizard, being so intuitive a method, makes it easy to know when to push a key without having to understand spoken (or written) instructions. Thank you for creating such a wonderful product.
"Music education apps are more productive in this department, but usually fall flat in enjoyment and substance. Piano Wizard could single-handedly change that, pairing engaging mechanics with increasingly challenging game-play."
"…seldom do we find a product that is as exciting as Piano Wizard Academy! As an editor, educator and musician, if we had medals to award along with our Editor's Choice Award, I would certainly present Piano Wizard with the Gold Medal."
"Piano Wizard, how do I love thee?  Let me count the ways."
"How good is it? Our testers could play the songs they had learned on Piano Wizard on a real piano later that same day – without having to be nagged to do so!"
Piano Wizard also ventures where no other music games do – with advancing modes of play taking you from a beginner, all the way to fluently reading the musical scores that previously seemed like hieroglyphics.
"An interesting way to learn the song notes, and it works."
"A great tool to keep kids busy learning and having fun at the same time"
"I was skeptical until the piano wizards enticed me to try and there I was, playing some kind of sonata or other. It was nice to find a computer video game that actually teaches something significant."