Can I use Piano Wizard Academy as part of our child's homeschool music curriculum?
Piano Wizard is a great choice for anyone 3 years and older.
---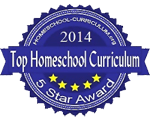 Considering that piano lesson attrition rate can be as high as 80%, the first 2 years are critical to the student's chance of success.
That's why we want to give our children the best chance of succeeding at learning music. We do that by making fun, natural, and effective. Piano Wizard does just that.
Buy Now
Learn More
Many home school parents overlook a music curriculum, not because they don't believe it is important, but because they feel ill-equipped to teach such a large (and seemingly daunting) subject. With Piano Wizard Academy, problem solved. You CAN have your cake and eat it too!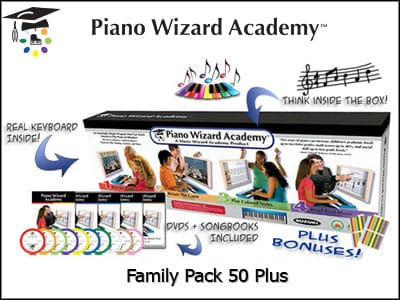 The Academy's DVD and Songbook lessons teach parents and grandparents to mentor their children and grandchildren  in how to move to the next levels of the game, while learning to play music along with the students.
Of course music experience helps, but a loving heart combined with the Piano Wizard Academy is enough to give them a firm foundation and open the doors  permanently to a lifelong musical journey.
What they're saying...
Piano Wizard, being so intuitive a method, makes it easy to know when to push a key without having to understand spoken (or written) instructions. Thank you for creating such a wonderful product.
"How good is it? Our testers could play the songs they had learned on Piano Wizard on a real piano later that same day – without having to be nagged to do so!"
"Music education apps are more productive in this department, but usually fall flat in enjoyment and substance. Piano Wizard could single-handedly change that, pairing engaging mechanics with increasingly challenging game-play."
"First and foremost, I feel that learning to play piano needs to be an enjoyable experience otherwise there's little motivation to continue. Piano Wizard has made it enjoyable for us."
"Learn the piano without falling asleep."
"It's the Rosetta stone of music learning!"
"I just want to personally thank the people who created this awesome way to teach kids to play the piano, I wish I knew about this when i was younger, I'm 18 now …. Piano Wizard will make a huge difference!"
With a background in training and education plus two children I've long believed in the philosophy "meet them where they are and help them expand from there. " That's exactly what Piano Wizard does.
"A stress free, fun experience that consistently proves successful."
While many computer programs teach music, Piano Wizard turns anything from Bach to Billy Joel into a video game in which you'll be guiding a rocket ship with a color-coated keyboard, while picking out a tune and learning chord progressions.
"Piano Wizard eliminates the competition."
"Piano Wizard – Best Gadgets & Gizmos on The Planet 2007"

Share your thoughts and experiences.