Can I use Piano Wizard Academy as part of our child's homeschool music curriculum?
Piano Wizard is a great choice for anyone 3 years and older.
---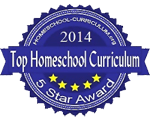 Considering that piano lesson attrition rate can be as high as 80%, the first 2 years are critical to the student's chance of success.
That's why we want to give our children the best chance of succeeding at learning music.  We do that by making fun, natural, and effective.  Piano Wizard does just that.
Buy Now
Learn More
Core homeschool studies are always a priority, but electives such as music and the arts should be a part of any homeschooling curriculum. Many home school parents overlook a music curriculum, not because they don't believe it is important, but because they feel ill-equipped to teach such a large (and seemingly daunting) subject. With Piano Wizard Academy, problem solved. You CAN have your cake and eat it too!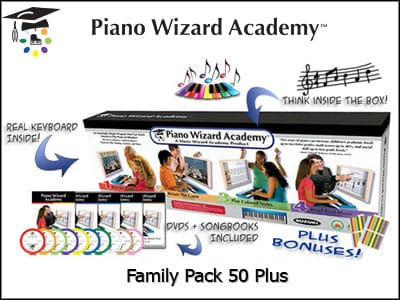 The Academy's DVD and Songbook lessons teach parents and grandparents to mentor their children and grandchildren  in how to move to the next levels of the game, while learning to play music along with the students.
Of course music experience helps, but a loving heart combined with the Piano Wizard Academy is enough to give them a firm foundation and open the doors  permanently to a lifelong musical journey.
What they're saying...
"Learn the piano without falling asleep."
A viable alternative to private music lessons.
"How good is it? Our testers could play the songs they had learned on Piano Wizard on a real piano later that same day – without having to be nagged to do so!"
Painlessly teaches anyone to play the piano. It gives every player instant success and joy, because they will immediately be able to play their favorite songs!
When I was playing at CEO Space I could hardly keep from crying because I know how this is going to bring my girls and I together and teach them the joy and uplifting power that creating music has on their soul.
"Considering that many kids learn to run a computer before they learn to read, this could be the teaching system of the future."
"An interesting way to learn the song notes, and it works."
"The real selling point of this program is its ability to teach children.  Simply put, our staff has concluded that this is the best online piano lesson program for children."
"I just want to personally thank the people who created this awesome way to teach kids to play the piano, I wish I knew about this when i was younger, I'm 18 now …. Piano Wizard will make a huge difference!"
"A stress free, fun experience that consistently proves successful."
While many computer programs teach music, Piano Wizard turns anything from Bach to Billy Joel into a video game in which you'll be guiding a rocket ship with a color-coated keyboard, while picking out a tune and learning chord progressions.
"Piano Wizard Academy is one of the best piano learning courses available for it is comprehensive, interesting, and very simple for beginners."