Piano Wizard Academy® provides the means to unlock and ignite the creative musical genius inherent in us all.
Through Feb 14th treat your little valentines to real music playing. Save $50 with coupon code "valentines2018".
When it comes to real music learning that's real fun, don't worry... we've got your Bach!
"I just want to personally thank the people who created this awesome way to teach kids to play the piano, I wish I knew about this when i was younger, I'm 18 now …. Piano Wizard will make a huge difference!"
"A great tool to keep kids busy learning and having fun at the same time"
"It's the Rosetta stone of music learning!"
"Your research on the positive effects of music are astounding and your progress with Piano Wizard is proof positive of your good work."
"An interesting way to learn the song notes, and it works."
"Piano Wizard takes away the drudgery of old-time piano lessons bringing them up-to-date in our every changing, exciting world of musical media."
Not only do I think Piano Wizard is pretty much the Cat's Pajamas, other people have thanked me because I recommended it for them or their children or grandchildren and they've also gotten great results.
Painlessly teaches anyone to play the piano. It gives every player instant success and joy, because they will immediately be able to play their favorite songs!
"Piano Wizard eliminates the competition."
"Piano Wizard is a successful adaption of the gaming genre to serious music lessons."
When I was playing at CEO Space I could hardly keep from crying because I know how this is going to bring my girls and I together and teach them the joy and uplifting power that creating music has on their soul.
My children have been playing Piano Wizard for 10 years now. I have built this into their homeschooling schedule. Megan, now 13 can play 6 instruments. I believe that the early start was crucial.
Author
Empower your child with an education for life

Order now and get these bonuses at NO Additional Charge.
| | |
| --- | --- |
| | Exclusive GOLD Membership Access to the Piano Wizard Academy Virtual Campus and Forum – the world's first music learning social network – created especially for you with Chris Salter moderating.  *GOLD MEMBERSHIP is not accessible to the general public!  ($99.00 Annual Value) |
| | A Bonus Christian Worship Songs that includes over 100 of the most beloved world renowned hymns and gospels, all easily imported into the system to be learned and enjoyed.($117.00 Value) |
| | Over 50 Piece WizardStudies Fingerwork Fluency Song Pack that makes scales, arpeggios and drill work fun, fast and simple to learn. Each game object has the correct fingering clearly displayed right on it so there is no confusion or frustration and kids can master these quickly and easily .($79.00 Value) |
| | "Beattie Etudes" a unique collection of profound thoughts and quotes on music and the spirit. What is it worth to tie the music learning process to spiritual practice and growth.(Priceless) |
| | Holiday Version –  Order now and get our Holiday Version for FREE.  ($49.95 Value) |
| | Bonus Holiday Songs to play –  Bring on the holiday cheer with this downloadable song collection.  ($99.95 Value) |
| | Free WizardTunes™  –  Downloadable pop songs released only to Campus Gold members.  ($199.95 Value) |
| | Piano Wizard Companion™  –  Downloadable eBook containing our history, method, instructions, and more.  ($29.95 Value) |
Piano Wizard Academy® Family Pack 50
Choose this if you don't require a keyboard.
MSRP: $497
Today: $347
* Free Shipping
Piano Wizard Academy® Family Pack 50 Plus
Complete system with digital keyboard included.

Award Winning Piano Wizard 4-Step Software

50 Video Lessons

50 additional self taught lessons

Sheet Music for 50 lessons

Add unlimited MIDI files to play


Color-coded Keyboard Stickers

Academy Quick-Start Videos

Star Stickers Reward System (to track progress)

Student Success Chart

49 Key Digital KeyboardChat with us now
MSRP: $597
Today: $447
* Plus shipping

U.S. Customers: Get it with NO MONEY DOWN today. Pay less than $75 per month for six months, with NO INTEREST through Paypal Credit. Our 100 lessons = 2 years of children's level curriculum. No hidden charges or continuing monthly subscription fees. You'll save THOUSANDS over traditional piano lessons and the WHOLE FAMILY can play. Checkout with Paypal option and apply.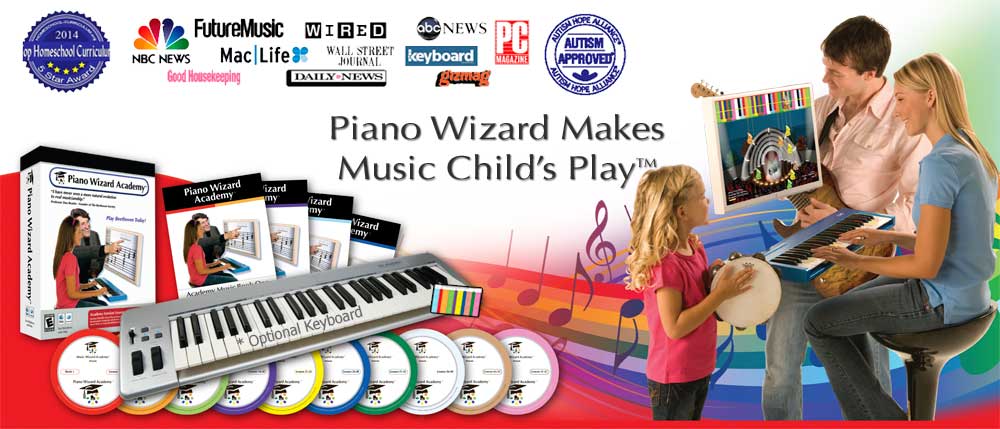 | | | |
| --- | --- | --- |
| | Our Award Winning Video Game Software | $100 value |
| | 100 Song Curriculum (equivalent to 2 years of children's level piano lessons) | $199 value |
| | Over 100 Additional Songs to play and learn included | $99 value |
| | Add Unlimited songs via MIDI files. Each new song is a new lesson as the MIDI files automatically renders to a game. | Unlimited value |
| | 50 Video lessons | $1000 value |
| | Song books for 50 lessons | $130 value |
| | Student Success Chart to track individual students progress. | $9.95 value |
| | Color-coded Keyboard Stickers | $5 value |
| | Optional 4 Octave Keyboard with USB cable | $139 value |
| | Academy Quick-Start Videos (teaches how to use the system) | $29.95 value |
| | Star Stickers Reward System (to track progress) | $5 value |
| | Time saved having to nag the kids to study their lesson? | Priceless |
Actual keyboard model may differ by what is shown here, but will be a similar 4 octave (49 key) keyboard. As explained above, we recommend that international customers purchase the keyboard locally to save on shipping.  If that is not possible we will happily fulfill your request. You may use your own keyboard that connects via USB or USB-to-MIDI cable.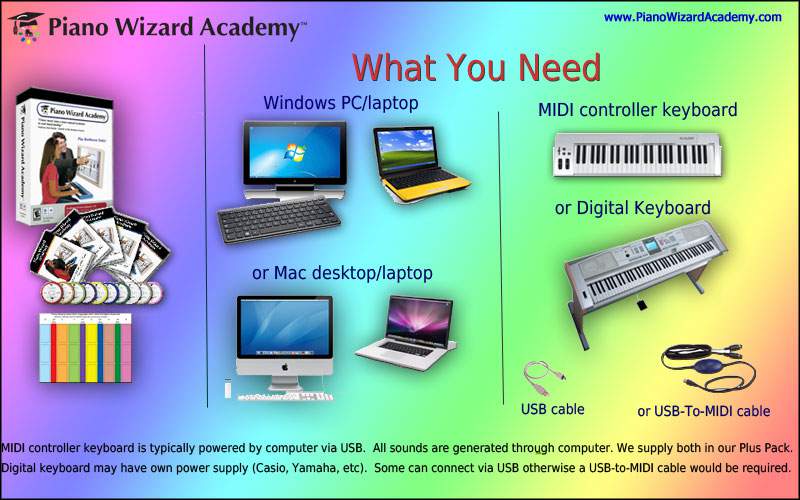 We've made your investment easy. How about NO Payments or Interest for 6 months?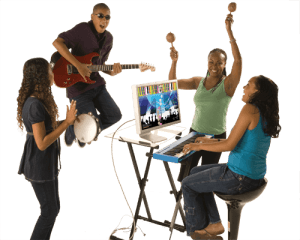 Paypal® is a trusted online leader when it comes to online payments. Paypal® Credit (formerly Bill Me Later) offers Piano Wizard Academy customers a safe, quick and inexpensive payment plan. If qualify, you can enjoy Piano Wizard Academy with no payments or interest for 6 months.
Assuming you paid it off in 6 month's time, that averages to less than $15 - $20 per week, with no further expense after 6 months. Simply choose Paypal during checkout and once transferred to Paypal, select Paypal Credit as payment option and apply. Our 2.0 software download link will be emailed to you after placing order.
You or your children can be playing the game in about 30 minutes from now (pending keyboard and sticker delivery). For a more detailed step by step guide, please review How To Apply For Paypal Credit.  Sorry, Paypal Credit™ is not available in all countries.
Real fun piano lessons at a fraction of the cost of traditional lessons.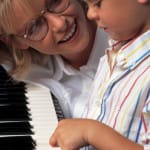 You're going to save big over traditional methods with your one time investment and no ongoing subscriptions costs. If you follow the course as intended, guide and support your children through their musical journey, it will be a truly rewarding experience for all. Guaranteed. Per CostHelper.com, piano lessons can average about $25 per half hour, more in the larger cities. And then add to that the expense of keyboard, supplies, travel, and not to mention your time, it all adds up. Try our calculator: compare the cost of piano lessons.
Piano Wizard is Remarkably Affordable
Let's assume that piano lessons in your area cost $20 per week. (Yes, we know many of you pay a lot more, but we'll start conservatively.) Even at that modest price, you'll spend well over $1000 in one year, and over $2500 in two years!  And that's just lessons for one child. How much will you save when the whole family can learn together? How much will you save when the kids love to practice, and continually keep advancing? How much will you save when the kids regularly download new music year after year, and you realize that they're getting piano lessons for life? There's no question that this amounts to thousands and thousands of dollars in savings, and hours and hours of family fun. In fact, the cost for the entire Piano Wizard Academy learning system (for a lifetime of musical enjoyment for the entire family and superior brain development) is much less.
At less than $5 per lesson (and that INCLUDES a keyboard) most agree that Piano Wizard Academy is a great value. And your savings just multiply with more learners in the family. In fact. you'll save THOUSANDS of dollars.
We are not knocking piano teachers.  In fact, we have hundreds that use our method with their own traditional curriculum.  But doesn't it make sense to start off with Piano Wizard and engender a familiarity with music and how it is structured and played? Develop the enthusiasm for learning to play the piano keyboard first, then seek a qualified teacher later after they have learned the natural way without all the frustration. After all, there's an 80% chance they will give up within the first 2 years. Piano Wizard Academy is piano lesson insurance.
Please allow  2 - 3 weeks for delivery. If you require it sooner (i.e. birthday) please let us know in the special instructions section during checkout or chat with a rep.  We can prioritize it for you.  We ship via USPS both domestically and internationally. If ordering with keyboard, it may arrive in a separate package. Shipping is free without keyboard.  You can save on shipping cost by ordering without digital keyboard and purchasing it locally or on a web site like amazon.com.  If you have questions about this, chat with a rep live or write to us.
Shipping Outside of the United States: 
We ship via USPS Priority Express Mail International.  While more expensive, it ships faster and it is the only option that allows us to track packages passed customs and to delivery address. We recommend you purchase they keyboard locally to avoid the extra cost. The recipient of an international shipment may be subject to customs brokerage fees, import duties, and taxes after the shipment reaches the destination country. Additional charges are the responsibility of the recipient because we have no control over these government-imposed charges and cannot determine what they may be. Customs policies vary greatly among countries. Please contact your local customs office for information. To avoid a delay in receiving your order from customs, consider the following:
Provide an accurate and working phone number on your order form where you can be reached by customs when your product arrives. This phone number will be listed on the invoice so customs can reach you to clear your order.
Please do not refuse a shipment or ignore requests from carriers regarding duty and/or tax liability charges. Be aware that most carriers will hold a shipment for 5 days after arrival in your country before they return it to the sender.
We do not refund original shipping charges for goods that are refused for delivery at customs.
Here's our ROCK SOLID, Iron-Clad 100% Money Back Guarantee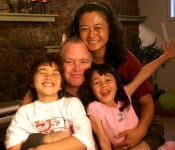 If there's anything I'm serious about, it's music. I've spent most of my adult life devoted to it, and I hope you can see that by what I've shared with you today.
I'm so confident in what I've put together that I want you to try it for 60 days.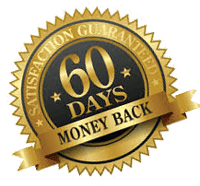 And if you feel this isn't the best investment you've ever made for your family, simply let me know and I will give you a full refund of your purchase price. You may keep any bonus gifts we provide as my free gift for taking the time.
If you follow our system just as we designed it, I guarantee that your child - or even you - will play at least 5 songs in 5 days or your money back. The Piano Wizard Academy is undoubtedly in a class of its' own and I'm sure you will agree the second you and your family start using it. Here's to you, your family, and a lifelong journey of music.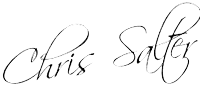 Chris Salter, founder of Music Wizard Group
What Our Customers Are Saying
"Piano Wizard is the Best software I have found, the software and video lessons are the most complete and clear I have found. We have worked with the children in the Academy where the lessons were created and saw great results in a short amount of time. I highly recommend this is the best software out there.
Sally Crawford
"I learned about the program about a year ago and decided that I wanted it for my special needs son now 11. he got it for his 11th birthday but little did I know that deep within my heart, I wanted it for me too, to fulfill a dream i have had since I was a little girl, that I always wanted to play piano. I have made it my goal to learn it alongside my son. I have played by ear, This has been a life changing experience even though just a few days old, needs to be celebrated...day after day."
Grace Ouko
"Piano Wizard Academy is Awesome! Not only could this person who failed abysmally at piano lessons as a child learn how to play within a couple hours, I've gained countless hours of pleasure since I first started. I love that Piano Wizard offers such a wide variety of music and is always updating their selection. "
Lydia Sugarman
Top Frequently Asked Questions
Do you offer a free trial?
We do not offer a free trial of our software. We do offer a 60 day money back guarantee. Due to the exponential and synergistic power of the entire Academy program, a trial of the software alone provides no benefits to our users. In fact, it simply doesn't do the system justice  The entire program needs to be experienced as a whole. (software, stickers, video lessons, songbooks, etc). That said, qualified U.S. customers can still try it risk-free without spending a dime by doing the following:
Apply for Paypal credit upon checkout.  You'll enjoy up to 6 months of no payments or interest
Try it for 60 days.
If in the worst case scenario that you need to request a refund, just send your refund over to Paypal to cover the loan and you've spent nothing.
Returns are rare and we're confident you will be thrilled with the results.  But we will still continue to offer our guarantee for your own peace of mind.
How old should my child be to use the system?
We recommend age 3 and older. However, we have seen children as young as 2 using it. That will depend on how well the child knows their colors, how disciplined they are, have they played video games before, and how big their fingers are to reach the different keys. Only you can judge the maturity level of your children. That said, it's been proven that early music learning is very valuable to children so you do want to start them early in life.
I am not musically oriented – how can I help my child with the program?
IT IS DESIGNED SO PEOPLE WITH NO MUSIC EXPERIENCE CAN BOTH TEACH IT AND PLAY.  Parental "coaching" assures that children will excel with your encouragement and support. Many parents overlook a music curriculum, not because they don't believe it is important, but because they feel ill-equipped to teach such a large (and seemingly daunting) subject. With Piano Wizard Academy, problem solved. You CAN have your cake and eat it too! We also assume zero previous musical experience for either the parent or child. The game does the heavy lifting, i.e., they learn by doing, and the game keeps them focused and moving through the song without effort on your part. You (parent/teacher) do need to set it up, and then set them up with the process, so that they know they are to not just stay in the game, but graduate to playing the piano. This happens in minutes with the game, literally if you follow the guidelines carefully they are reading sheet music on a song they did not know 15 minutes ago. With kids these days though, they figure out the software faster than we do, and then race ahead. You mainly need to slow them down so that they go through each level and song or they quickly load songs they like that are still beyond them. The key is like anything else, they will pay attention to what you pay attention to. If you reward their successes with star stickers on every level, they will move through the levels to get the star stickers. If you make a big deal about them playing from the sheet music (level 5) they will strive to please you and perform from the sheet music at the piano. If you praise every completed song, they will move through the curriculum with pride.
Is this just for kids?
Not all. People of all ages have enjoyed Piano Wizard – from kids to teenagers to seniors. The "background themes" may give the game the look of a child's game, but they can be changed or removed to suit your taste. Many adults love using the colorful themes – it just makes them "feel" like a kid again!
Will I (or my child) really learn to play piano?
We get that question a lot, because it just seems too good to be true. But in fact, the game was designed primarily to teach people to easily play and read music, not just to entertain, but using play and interactive feedback as a guide and motivator. That being said, once the game came out we saw that the kids tended to stay within the game if not invited to the piano, but that when they did get invited to play on a real piano, they loved picking out the songs they had learned. IT IS DESIGNED SO PEOPLE WITH NO MUSIC EXPERIENCE CAN BOTH TEACH IT AND PLAY.  Parental "coaching" assures that children will excel with your encouragement and support.
What digital keyboards work with Piano Wizard?
Actually, any digital MIDI keyboard or MIDI Controller keyboard will work with the software. Most newer keyboards have a USB connection so all that is required is a Male A to Male B USB cable. Older keyboards may only have MIDI In/Out.  In this case you would need a USB-to-MIDI cable. In most cases, the keyboard connection is a simple plug-and-play.  While issues may occasionally arise with the keyboard communicating with your computer, these issues are almost always resolved by downloading the proper drivers from the manufacturer's web site. Other issues may involve adjusting computer settings.
My computer doesn't have a CD Drive for software install
No worries.  We can provide downloads.
Don't Be Shy.
If we didn't answer all of your questions, feel free to drop us a line anytime. Or chat with us (bottom right) if an agent is available.
Get In Touch