"Now is the time to restore the rightful place of music education in the life of every child - and in all our lives."
Professor Don Beattie
Piano Wizard Academy is the only piano learning software, both highly effective and enormous fun, from which an actual accredited college course was created.
"We provide the means to unlock the creative genius that is inherent in all of us."
At Music Wizard Group™ we've built our company based on the premise that music should be a birthright for everyone. We firmly believe the process of creating music should be fun, easy, and joyful experience for all ages.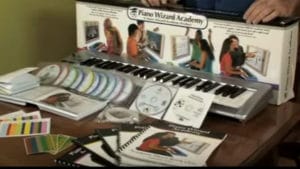 Piano Wizard Academy™ program combines the genius of our Piano Wizard® software with our tutorial DVDs and Songbook lessons. Our revolutionary 4-step method can teach anyone to play the piano and read music in minutes.
We Know Music. With over 50 years of teaching experience, we guide you song by song with the corresponding lessons teaching pitch, timing, rhythm, and finger numbering as you learn to read musical notation.
The DVD and Songbook lessons teach educators how to integrate this program into their music education classes and teaches parents how to mentor their children through the process at home while even teaching them to play.
Piano Wizard is truly a rewarding family experience, and an ever expanding music learning system that will last a lifetime.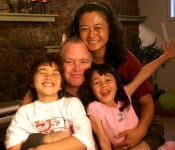 Chris Salter
Founder & Ceo Music Wizard Group
Music Wizard Group founder Chris Salter first thought of inventing the Piano Wizard game shortly after graduating from Southern Illinois University. He entered the University in 1978 to study cinematography and began producing films about music. Shortly after, Salter met piano instructor Don Beattie, who came to the School of Music in 1979, and dropped into a group piano class, and stayed for 4 years, ending up with a double degree in Music and Linguistics from SIU, and went on to get his Master's in Musicology from UCLA. Quite literally, Don's teachings changed Chris Salter's life, and led indirectly to him founding this method and company. While Beattie helped Salter learn to play piano before he graduated, Salter said he never mastered reading music.
A few months after graduating in 1983, Salter took classes to learn how to type. Salter felt the lessons were frustrating until he played a typing game, and soon he was typing 40 words per minute. It was then that he had the revelation that a piano keyboard is nothing more than a bunch of buttons like a typewriter and it dawned on him that a piano video game could have the same effect. After years of consideration, Salter decided to form a business to develop and manufacture the Piano Commando game - which went on to become Piano Wizard. Music Wizard Group was born.
As great as our 4 step learn to play piano method was, Step "5" (at the real piano) was always our true mission - a way to get people into the world of making music, playing real music on real instruments. We knew the game was great, but the missing link from a game to true musicianship remained a puzzle. We realized that the Piano Wizard® game, combined with the careful step by step song progression built into EASY MODE, plus a teacher who knew how to utilize the game as the tool, was far more powerful combined than any one of them alone. Chris needn't look any further than his former piano instructor.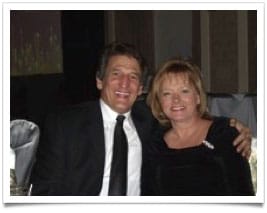 Don & Delayna Beattie
Teachers
For the past eleven years, Don Beattie has served as Master of Ceremonies for the World Piano Pedagogy (the art of piano teaching) Conference. He and his wife Delayna have provided notable leadership for this Conference since 1994. In 1984, Don founded the Beethoven Society for Pianists that has captured international acclaim with hundreds of festivals that brought young pianists, teachers, communities and some of the greatest artists of our time together in new ways.
Involved in local, state and national activities for the Music Teachers National Association since the outset of their careers, they recently showcased the Music Wizard Academy™ at the March 2007, Collaborative Conference of MTNA in Toronto, Canada. Their "Beethoven Goes to School" music assembly program for school children has taken them from coast to coast.
They have performed presentations for 5,000 children in Anchorage, and 4,000 children in Boston, highlighting this program. Don presented 200 piano teacher workshops as clinician for G. Henle music publishers. His published works with Edition HAS have been performed for US Presidents and audiences worldwide. Don and Delayna authored four volumes of the "Beethoven Library of Piano Works" for Warner Bros. and are recognized for significant contributions to teaching the early works and artistry of Beethoven.
Their direction of a world premier performance of Beethoven's Symphony No. 9 for piano ensemble and choir in Orlando, Florida in October 2001 captured the attention of President George Bush and colleagues worldwide. They remain active as performers and are frequent concert artists in Rochester, MN for events hosted by Mayo Clinic.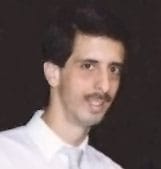 Vincent Miele
Business Developement Executive
Vincent is a professional musician and the President and founder of CYBERMIDI.com - a popular MIDI file and backing tracks operation.  Chris was a member of CYBERMIDI and in 2005, approached Vincent and asked if he could set up a web site where Piano Wizard customers could find more music.  That site became WizardTunes.com
Since then, Vincent has developed the Piano Wizard Academy Virtual Campus, recruited affiliates, taken over web site and product development , sales & marketing, and customer support.  He also oversees additional music for the game above and beyond the curriculum created by Don and Delayna.
Salter kept his connection with Beattie and with the S.I.U. School of Music and the Piano Wizard Academy work sprang from our research at Southern Illinois University in Carbondale as to how piano teachers could best utilize the game in their classrooms. In fact, in a short summer boot camp program (as seen in the video above), 90 minutes a day, for a mere 4 days, those children learned 12-20 songs, and on the 5th day were reading sheet music and playing at the grand piano, effortlessly, more importantly, PAINLESSLY - in a single week!
These results were nothing short of amazing and the Beatties knew they uncovered something special.
After the success of the boot camp, in the fall of 2005, the Beatties founded – and directed – the Piano Wizard Academy at Southern Illinois University, Carbondale. Their work as Academy Directors opened new horizons for young children and adult beginners of piano. Don and Delayna authored a 100 Song Lesson Series that is now the "Academy music curriculum" in our Academy bundle. Music Wizard Group and the Beatties then collaborated in the development of Tutorial DVD and Songbook lessons for the Academy Music Library.
The Beatties are pioneering a completely new way to teach piano musicianship and the love of music. In Piano Wizard Academy, children, as young as age three, are so enthused about playing piano that their parents are astonished. It is an amazing thing to experience their children's new found love of music and the piano.
We realized that not everyone would be able to attend the Piano Wizard Academy, so we brought in the cameras and recorded the lessons with Don and Delayna. These DVDs – combined with songbooks and hundreds of dollars worth of bonuses from select partners – create a compelling and complete piano learning system designed to simply and intuitively teach you and/or your children how to play the piano and read music. It requires no previous experience and it makes the process fun.

Our trademarked method has allowed us to secure licensing deals with select partners. The first was with Fisher Price® as they incorporated the Piano Wizard method into the popular "I Can Play Piano." Two years later, Mattel® released "I Can Play Guitar. We are also in the process of incorporating the method into other instruments, such as guitar, along with the developed of an app for iPad and mobile devices.
Our Mission
The mission of Music Wizard Group is to:
Increase music literacy and the ability to play and read music among all classes of people;
Provide an answer for parents and educators as well as religious groups and government agencies to combat the onslaught of mind-numbing violence and destruction that has traditionally dominated the video game industry; and
Build long-term relationships with our customers by providing quality products, training, support and additional exciting gaming products that continue to move our mission forward in a fun, safe and non-violent and yet exciting way for their children.
Our Vision
We at Music Wizard Group want to create a tidal wave of interest in music making. To achieve universal musical literacy among all people regardless of age, national origin, or economic status through fun and exciting non-violent, music training video games.
We improve the quality of life for individuals, families, and communities in a fun way that brings joy, self-expression and liberation through their relationship to music. Playing and creating music is now accessible and available to everyone and is something to be shared and enjoyed together.
Introduced in 2005, Piano Wizard® immediately received rave reviews and multiple awards. The product is available for both PC and MAC computers. Piano Wizard® products can be purchased as stand alone software or a software/piano keyboard bundle.
Professor Don Beattie and his music partner, Delayna, started the original Piano Wizard Academy™ in 2005. Through working with their students, ages 3 and up, the Beatties have created the Piano Wizard Method™ curriculum. In the summer of 2006, these curriculums led to amazing results at the Rocky Mountain School in Boulder, CO. This was the impetus to form the Music Wizard Academy™, and bring music education back to homes, schools and teachers.
Music Wizard Group's game engine easily adapts to multiple instruments and platforms. Current and future product extensions include: Piano Wizard®, Guitar Wizard™ , Composer Wizard™ , Drum Wizard™ , and Band Wizard™. While WizardTunes™ provides MIDI music downloads (think iTunes), which make the games infinitely expandable, and the WizardTunes Music Club provides ongoing customer continuity and sales revenue.
We look forward to providing you with an outstanding musical experience. Please feel free to contact us if we can be of service.
Investor Relations
If you are interested in investment opportunities with Allegro Rainbow, please write to us
Ready to play? Start the dream today.