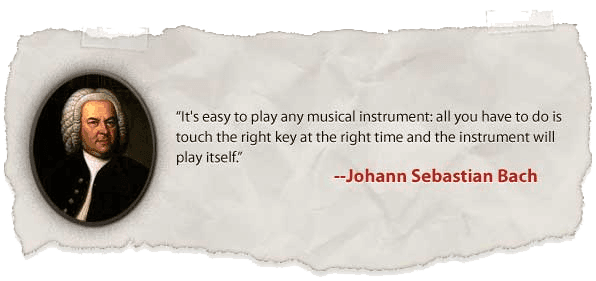 Traditional piano lessons teach musical notation first.
We don't.
The truth is most of us don't want to wade through the hieroglyphics before we get to play. We want to play NOW.
The Piano Wizard Method teaches anyone to easily play the piano all through an amazingly simple computer video game combined with our award winning piano learning software.!
Subconsciously, the system will show you how to learn to read music too.
Watch this 4 year old girl play AND READ music in LESS THAN A WEEK.
"Music education apps are more productive in this department, but usually fall flat in enjoyment and substance. Piano Wizard could single-handedly change that, pairing engaging mechanics with increasingly challenging game-play."

When I was playing at CEO Space I could hardly keep from crying because I know how this is going to bring my girls and I together and teach them the joy and uplifting power that creating music has on their soul.

"First and foremost, I feel that learning to play piano needs to be an enjoyable experience otherwise there's little motivation to continue. Piano Wizard has made it enjoyable for us."

"Piano Wizard is a successful adaption of the gaming genre to serious music lessons."

Piano Wizard also ventures where no other music games do – with advancing modes of play taking you from a beginner, all the way to fluently reading the musical scores that previously seemed like hieroglyphics.

"I have the product and personally witnessed children with no previous musical training sit down and begin playing songs in minutes. For anyone who would love to learn how to play piano or has a child or grandchild that you would love to give a precious gift to, you owe it to yourselves to take a look at Piano Wizard."

While many computer programs teach music, Piano Wizard turns anything from Bach to Billy Joel into a video game in which you'll be guiding a rocket ship with a color-coated keyboard, while picking out a tune and learning chord progressions.

"An amazing engine that lets virtually anyone take virtually any piece of music and play it."

"This is a complete package that is worth the investment"

Not only do I think Piano Wizard is pretty much the Cat's Pajamas, other people have thanked me because I recommended it for them or their children or grandchildren and they've also gotten great results.

"It's the Rosetta stone of music learning!"

"The stuff it teaches is valuable for players of all ages"

Simple Is Genius! Look how easy it is to learn how to play with Piano Wizard.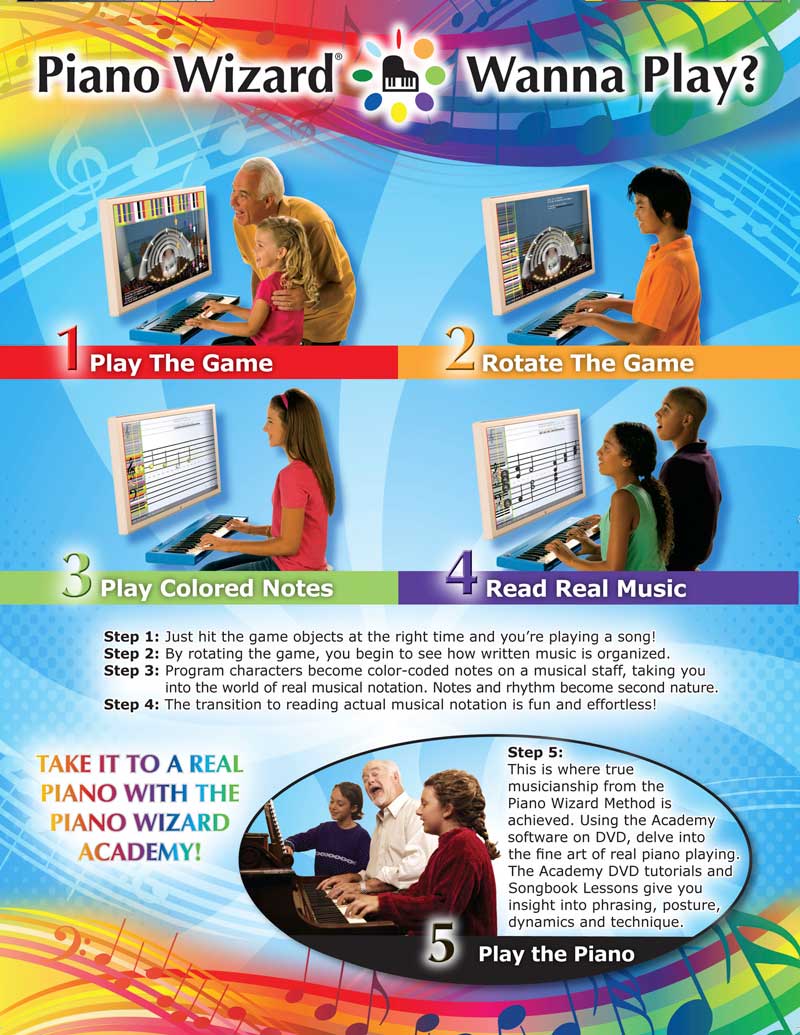 Music before theory
This game based method teaches Tempo, Timing, Fingering, Note Names and Reading of Notation while practicing with either right, left or both hands. Our method advances the student from playing a video game to reading music.
From Bach To Billy Joel, you'll be playing piano in minutes!