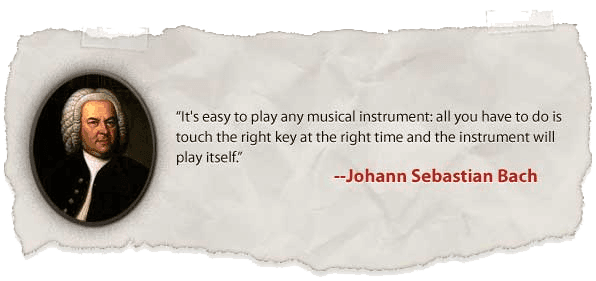 Traditional piano lessons teach musical notation first.
We don't.
The truth is most of us don't want to wade through the hieroglyphics before we get to play. We want to play NOW.
The Piano Wizard Method teaches anyone to easily play the piano all through an amazingly simple computer video game combined with our award winning piano learning software.!
Subconsciously, the system will show you how to learn to read music too.
Watch this 4 year old girl play AND READ music in LESS THAN A WEEK.
"Your research on the positive effects of music are astounding and your progress with Piano Wizard is proof positive of your good work."

"Considering that many kids learn to run a computer before they learn to read, this could be the teaching system of the future."

"An amazing engine that lets virtually anyone take virtually any piece of music and play it."

"WE love it.  I just wasn't confident enough in my ability to teach it to the kids. But once we really watched the videos, read the info in the book, and became familiar with the software, I got really excited about it!  My husband loves it too and is doing very well. Apparently his parents skipped music lessons unfortunately."

"First and foremost, I feel that learning to play piano needs to be an enjoyable experience otherwise there's little motivation to continue. Piano Wizard has made it enjoyable for us."

"Piano Wizard takes away the drudgery of old-time piano lessons bringing them up-to-date in our every changing, exciting world of musical media."

"…seldom do we find a product that is as exciting as Piano Wizard Academy! As an editor, educator and musician, if we had medals to award along with our Editor's Choice Award, I would certainly present Piano Wizard with the Gold Medal."

"Piano Wizard is a revolutionary teaching platform that is changing the way kids learn piano."

Piano Wizard Academy is an effective course that produces measurable results.

Not only do I think Piano Wizard is pretty much the Cat's Pajamas, other people have thanked me because I recommended it for them or their children or grandchildren and they've also gotten great results.

With a background in training and education plus two children I've long believed in the philosophy "meet them where they are and help them expand from there. " That's exactly what Piano Wizard does.

"Learn the piano without falling asleep."

Simple Is Genius! Look how easy it is to learn how to play with Piano Wizard.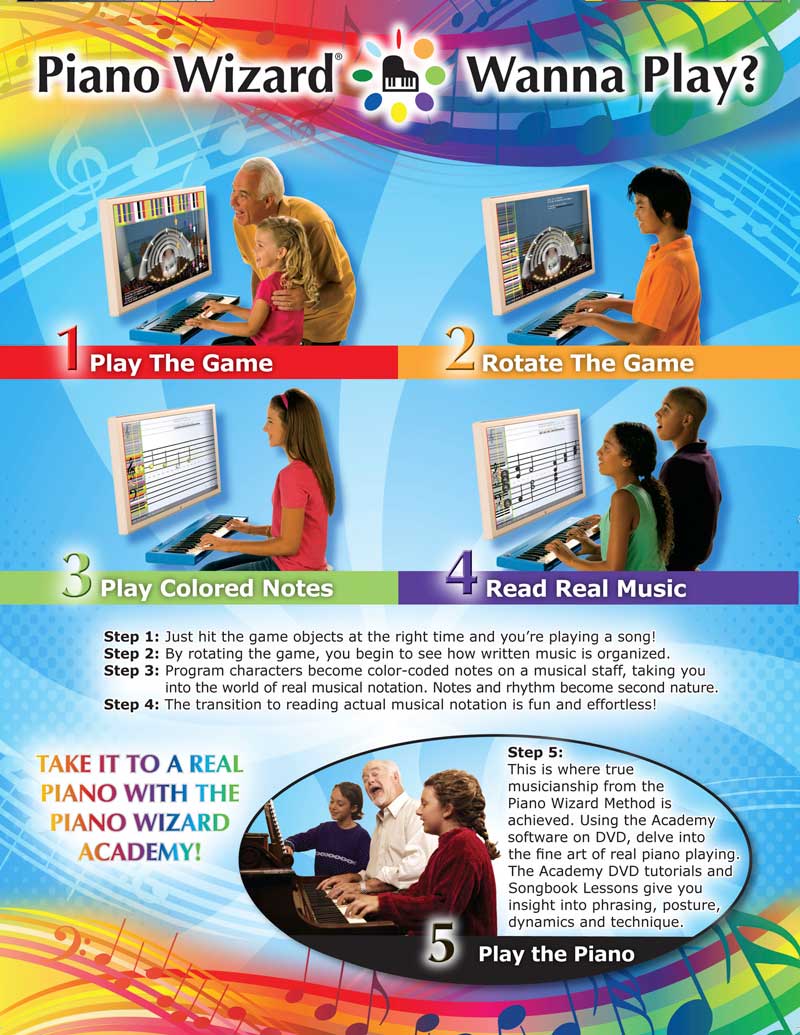 Music before theory
This game based method teaches Tempo, Timing, Fingering, Note Names and Reading of Notation while practicing with either right, left or both hands. Our method advances the student from playing a video game to reading music.
From Bach To Billy Joel, you'll be playing piano in minutes!