Now

ANYONE

can play
piano in

minutes

with an amazingly simple

video game

.
The #1 Piano Learning Software Game System That The World Loves To Play
While many computer programs teach music, only Piano Wizard can turn any song from Bach to Billy Joel into a video game that teaches you to play and read music as you play.
Give the gift of a lifetime of music this holiday season.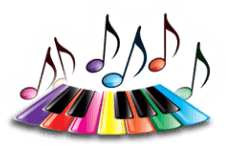 Say good-bye to boring practice, frustrating lessons, months of pre-learning, ineffective approaches, painful drills, difficult music notation, and nagging!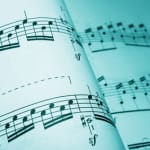 Traditional music learning can be difficult and frustrating for most of us because it is taught contrary to the way we naturally learn our native language.
Studies show that normal attrition rates for piano lessons among the general population can approach 80 percent.
In addition to the high drop out rates among beginning music students are the subtle scars to the soul that many who give up on music can carry with them as a result of the frustrating or even humiliating experiences related to music lessons as a child.
The traditional method of teaching piano is to immediately introduce theory and notation, making learning unnatural and far more difficult than it needs to be. Amazingly, modern methods, software, and apps STILL insist on STARTING YOU OUT there.
Deciphering archaic musical code, music theory, expensive lessons, boring practice / drills, and a whole lot of nagging are NOT the solution, though many have tried. Consequently, this results in failure for most of us that aren't exceptionally gifted musically.
Music is our birthright and should be available to EVERYONE and not just those that are the musical elite. We do not fail the SYSTEM. The system FAILS US. But there is a solution.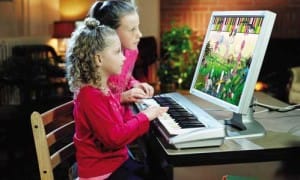 Piano Wizard Academy® makes practicing fun and even addictive, with instant feedback and rewards. And it all starts out with an engaging video game so that they don't even realize they are practicing!
Our innovative music learning system is the ONLY method that teaches music by emulating the way we NATURALLY learn our native language, making music learning easy.
Through the game's visual, auditory, and feedback, we can unleash the inner musician in anyone and prepare a whole new generation of Mozarts!
Our game engine and music before theory approach empowers virtually anyone to take any piece of music and play it. By adding "step 5" with our Academy DVD lessons and songbooks , we take you to a real piano and music reading in no time.
Teachers Don & Delayna have taken difficult music notation and theory and transformed them into easy to understand concepts that anyone can master.
Instead of struggling to learn to play piano, you'll PLAY-to-READ-to-LEARN, almost subconsciously, learning to read music along the way too!
Piano Wizard Academy gives endless years of the joy of playing music, without the normal tedium and pain of practice.

Improve your child's self-esteem, mental & emotional health, grades and test scores through a simple piano video game.
"I am a home educator of two wonderful boys ages 5 and 7.
I have wanted to teach them music but felt intimidated by the whole thing. It has been 26 years since I have played a piano! I jumped in with both feet and we have not looked back."
Ken Jasick
"Great program, awesome curriculum! My children love it, and I've had a lot of fun with it as well. The DVD lessons are great. We recently moved and were without our clavinova for a few months, and my daughter kept telling me, "Mommy, I miss Piano Wizard. When can I play it again?" Now it's back and I've fallen in love with the program all over again." Tammy Spackmanon
Key features and benefits

Bonding Through Music
A unique and rewarding parent-child bonding experience through real music learning.

Music Before Theory
Play before you learn in a fun and engaging gaming-style environment. Introduces a natural approach to learning music. Perfect for ages 3-93.

Step 5
Takes the student to that crucial transition to piano. Go from game-like mode to reading real music!

Instills The Important Skills Of Musicianship
Builds Movement, Rhythm and Tempo Effortlessly. Learn Phrasing, Posture, Dynamics and Technique.

Lifetime Benefits
Through neuroplasticity, music playing helps to wire a child's brain for all education.

No Previous Music Experience Required
If you can recognize colors, you can learn to play before you can even say "Beethoven".

Built-In Motivation
The drudgery of practice is eliminated. Constant check-points, attainable goals, and supportive teachers keep the student motivated.

Progressive Learning
Graduated method piano curriculum. Go from zero to Beethoven in record time.

Expandable For Life
Add unlimited songs via any MIDI library. As a result, this keeps interest and allows the student to grow.

Fun
Practice is no longer a dreadful chore as our video game makes it fun.
What They're Saying About Piano Wizard Academy
"I don't know if I am sending this email to the right address or not but I just had to write and say THANK YOU! I installed the program last night. Today is Saturday and my kids (12 and 11 years old) are still in their pajamas. They had been playing Piano wizard all morning. They have already mastered song 10! And I have to tell you that it is so much fun that I have been playing too.
I was worried about the transition to the real piano but (you will laugh at this) I called my friend and put the phone on "speaker phone" so I could play for her. I have no music background at all and it was a breeze! My friend was most impressed. She is coming over next week to try it out. Yay!! Finally a music program that works. We LOVE it!! Thanks so much!"
The Uling Family
"Piano Wizard Academy is Awesome! Not only could this person who failed abysmally at piano lessons as a child learn how to play within a couple hours, I've gained countless hours of pleasure since I first started. I love that Piano Wizard offers such a wide variety of music and is always updating their selection." L. Sugarman