Introducing Piano Wizard Next Gen 2.0 Piano Learning Software
Piano lessons are often thought of something to be endured not enjoyed.  Yet research has shown profound positive effects of as little as 2 years of piano lessons. This inclused 30-40% jumps in math and spatial skills, new brain cells and pathways, better SAT scores, social skills, self esteem, and more.  The list is stunning. Parents and teachers alike struggle to find affordable, efficient and effective ways to give their children these advantages.
On the other hand, music video games are one of the most exciting and lucrative new genres in the entertainment industry.  The industry is racked up $3 Billion in about 4 years, with mobile apps in particular looking to expand exponentially. But are players of these games being ridiculed as being brainless posers?
Well, there hasn't been a way to go from music simulation games like Guitar Hero to playing a real instrument, until now.
Piano Wizard 2.0 – The Next Generation Piano Learning Software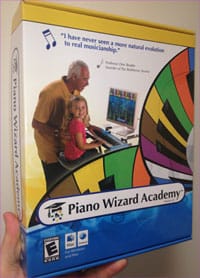 Piano Wizard Next Gen piano learning software is an exciting new music video game system that will have your kids – or even you – playing real music on a real instrument in minutes, not months, and loving it.
Our latest major software upgrade – Next Gen 2.0 – replaces our Premier version*. The game engine has been completely rewritten for better compatibility with today's computers. In addition, the game now features soundfont technology, enchanced graphics, the ability to create separate users, and more.
(Piano Wizard Premier software is still included in our Academy package but is no longer updated.  Customers receive free 2.0 download upon completion of Academy purchase)
Our new 2.0 Piano Wizard features:
Enhanced sound using soundfont technology (real instrument samples)
Improved graphics
Better compatibility for today's computers
A completely re-written game engine
Individual User profiles.
Ability to add an unlimited number of MIDI files that automatically render to a game.
Next Gen 2.0 is only available with the purchase of Piano Wizard Academy
Click for larger view