Real Music Learning Starts Here
Bundles | Software Downloads | Mobile Apps | Customer Upgrades | Accessories | Private Consultation and Training

---
Piano Wizard Academy Bundles
Piano Wizard Academy Family Pack 50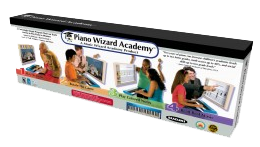 When you're ready to start your journey to learn to play piano, our system is ready to help take you wherever you want to go.
Our core revolutionary piano learning package – includes everything you need to play real music.
(EXISTING Premier/Easy Mode Software users may UPGRADE to Academy below).
---
Software Downloads
Piano Wizard Starter – Holiday Edition
Imagine the look on your child's face as they instantly play real songs on Christmas morning! No prior experience necessary – they'll be playing in minutes. This is a scaled down version of our full Piano Wizard software, using our new 2.0 game engine, which features better graphics and sound.
Instantly Downloadable
Stickers included in your order – sent by mail
MIDI Keyboard required – use yours or grab the bundle with keyboard. (Will play in demo mode with a keyboard)
A perfect virtual stocking stuffer and a great way to get started with Piano Wizard. Learn the 4 step system and learn to play 25 new songs. Selections include
Jingle Bells
Jolly Old St. Nick
Auld Lang Syne
Silent Night
Deck The Halls
And MORE – plus 3 songs (lessons) from Piano Wizard Academy
$29.95
Piano Wizard Mobile Apps
Piano Wizard Academy Is Expanding To The iPad / iPhone Platform.
Our new iOS App brings our trusted music education Video Game to your mobile device.
Our project was successfully funded on KickStarter.  For more information on release, go to Piano Wizard App For iPad and iPhone.
---
Customer Upgrades
Upgrade to Piano Wizard Academy – (Existing Premier /Easy Mode customers only)
You already have our software and a digital keyboard.
For the COMPLETE EXPERIENCE, it's time to UPGRADE to Academy.
Includes DVDs, Songbooks, Star Stickers, and Virtual Campus access.
.
Academy 51-100 Lesson Book Downloads
Designed specifically for use with the Piano Wizard game, all of the following lessons books are downloadable and printable at home. No instructional sheets are included at this time. Simply play lessons in the game, then print out sheet music and use it when you are ready to take it to a real piano. [* Please note that sheet music for lessons 1-50 are only available with the purchase or upgrade to Piano Wizard Academy].
Academy 6 – Sheet Music for Lessons 51 – 60 – $19.95
Academy 7 – Sheet Music for Lessons 61-70 – $19.95
Academy 8 – Sheet Music for Lessons 71-80 – $19.95
Academy 9 – Sheet Music for Lessons 81-90 – $19.95
Academy 10 – Sheet Music for Lessons 91-100 – $19.95
Or Get them all five and save: Academy Sheet Music for Lessons 51-100 -

$99.95

$79.95
Upgrade to Piano Wizard Next Gen 2.0 Software – (Existing Premier customers only)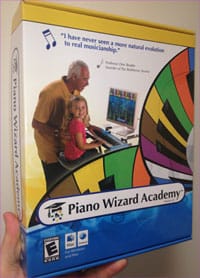 Introducing the next generation of piano learning software – Piano Wizard 2.0 Next Gen.
Upgrade to Piano Wizard Next Gen – our first ever major upgrade over our Premier software.
While we have not yet added any new "features" to our award-winning software, version 2.0 now offers:
Improved sound using soundfont technology
Improved graphics
Better compatibility for today's computers
A completely re-written game engine
Next Gen is distributed as part of our Piano Wizard Academy bundle and not sold separately. However, Premier users are invited to upgrade for only $69.95.
No need to ship – Next Gen is instantly downloadable. Simply checkout, and click on your download link, save to your computer, and run the installation. You'll be playing in minutes!
After placing your order, we will need to verify that you own Piano Wizard (a valid registration code is required. Once approved, we will email you a download link. Please allow up to 48 hours for this process to complete.
$69.95
---
Accessories
M-Audio Keyrig 49 – 4 Octave USB MIDI Controller
The KeyRig 49 key is the perfect USB keyboard for getting started with music on your Mac or PC. The KeyRig 49 turns your Mac or PC into a versatile keyboard workstation. Featuring a 49-key, synth-action USB MIDI keyboard, the KeyRig 49 makes it easy to start composing and performing music with a computer.
Works great with Piano Wizard. Use KeyRig 49 to play Key Rig's virtual instrument sounds, or compose songs , Apple's GarageBand or other music-creation programs. It also includes professional features like pitch and mod wheels, an assignable volume slider, octave +/- buttons and sustain pedal input. It's powered via a single USB cable and works instantly with computers running Mac OS X or Windows XP.
Product Features
49-note synth-action keyboard
Includes KeyRig software for PC
Assignable modulation wheel and volume slider
Pitch bend wheel
Assignable octave +/- buttons
Edit mode button
Sustain pedal input
USB 2.0 and USB 1.1 compatible
Instant installation on Mac OS X and Windows XP computers – just plug and play
Includes Ableton Live Lite (PC/Mac) software > make music right away
$139.95  $99.95
UNO USB-To-MIDI Cable
The Uno USB MIDI cable makes it quick and easy to turn your MIDI capable keyboard into a computer learning and playing tool. It is USB bus-powered so your keyboard will require no external power source. (not required when you have our M-Audio Keyrig or similar type)
1×1 USB MIDI interface
Bus-powered — requires no external power
Extremely compact for mobile or desktop use
Built in USB and MIDI cables
$49.95
Color-coded Keyboard Stickers
These keyboard stickers can be used to color-code your keyboard to match the Piano Wizard screen. This makes it easy for beginning players to visually understand what they are learning. The stickers are removable when you no longer want or need them, and they are washable too! One set of stickers is included with every Piano Wizard package.
Color-coded for easy play with the game
Washable
Removable
Free Shipping
$4.95
---
Private Consultations / Lessons Via Skype With Don Beattie
Don Beattie is available for private consultations or lessons. These are perfect for when your child is struggling with Piano Wizard – or in whatever learning method they are using. Or, if you just want help learning a particular topic.
After ordering, Don will contact you privately to set up time and date. These are available in slots of 30 minutes each. For example, if you would like an hour's time, select "2" as your quantity in your cart.
$50 per consultation / lesson
---